Let the Busy Person in the Mirror Take a Break
The desire to look attractive is universal. Mirror is an indispensable daily necessities for people, and it is also a woman's favorite. In life, many people like to seriously look at themselves in the mirror to make themselves more beautiful and handsome. Because you can see yourself in this mirror, so as to discover beauty, experience beauty, and create beauty. If you have a beautiful face and gorgeous clothes, it will reflect you as it is; if you have blemishes on your face and dirt on your body, you cannot escape its reflection, so you must pay attention to your own image.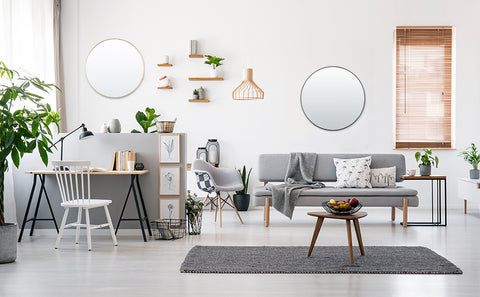 This Black Frame Wall-Mounted Round Mirror is a perfect vanity mirror or home decoration in Bedroom, Bathroom, Living Room, Waiting Room, Dressing Table , Entryways, Salons and so on. It's got a classic style with timeless appeal.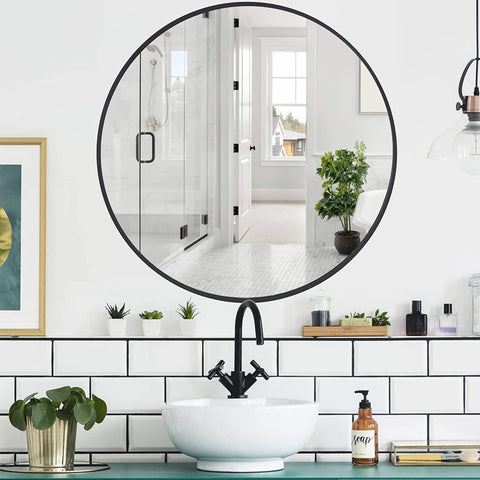 Elegant Metal Frame looks simple and cozy in any room, enhance your home instantly. This 20 inch mirror is the ideal size for a bathroom or entryway. The classy black circle mirror frame accents any room perfectly and matches any decor. Use as a black bathroom mirror, black vanity mirror, or entry mirror. Add light and and enhance the beauty of any room in your home instantly!
How to install the round mirror?
Don't worry! It is very easy to install, the back of the round wall mirror has two hanging hook, measure the distance between the centers of the two back clasps, then use a ruler to draw the same distance on the wall, use a drill bit to make two holes where the hardware will be installed, install a screw in each hole until the screw head is about 0.2 inches from the wall, and finally secure the black wall mirror clasp to the wall hardware.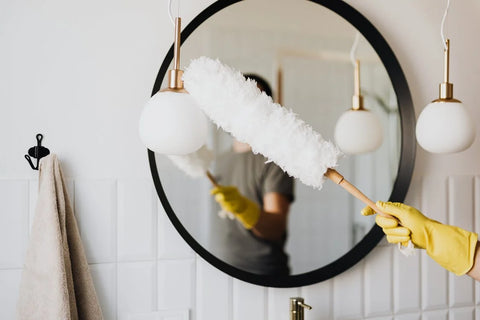 You walk around the room with the book in your hand, but it does not prevent you from seeing your monthly posture through the reflection of the mirror. You might try stopping for a few minutes to give the person reading in the mirror a break.