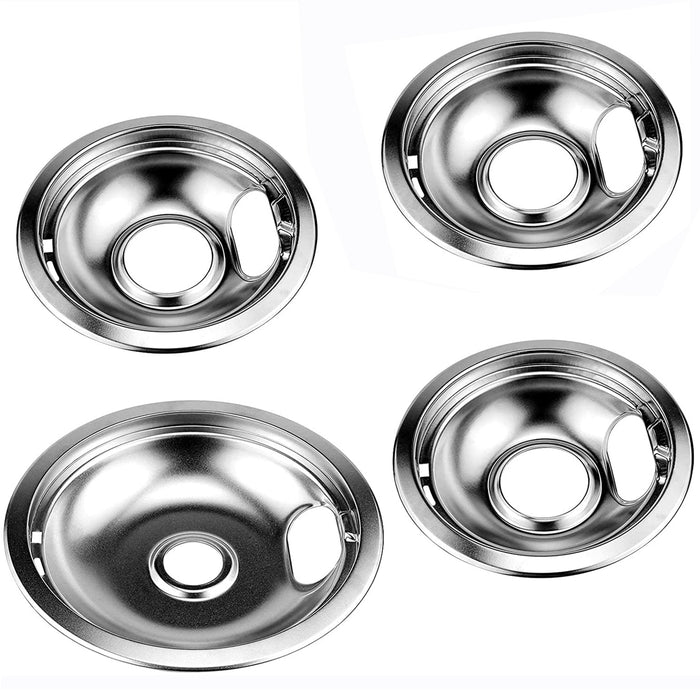 W10196405 Range 8" Drip Bowl and W10196406 6" Drip Bowl Set
Sold out
Original price
$32.99
-
Original price
$32.99
Specifications
Product Name: Drip Pans/Bowls
Color: Silver
Material: Chrome
Part Number: W10196405 and W10196406
Package includes: 1 * 8" Drip Pans and 3 * 6" Drip Pans
key Features
Great Value Package: 1 * 8" W10196405 and 3 * 6" W10196406 electric stove burner drip pans are easy to clean and can be washed in the dishwasher. The chrome burner drip pan bowls catches oil/water droplets/food that leaks during cooking.
W10196405 Replacement No.: 102, 0042142, 0042169, 0064676, 0075482, 0087550, 0087552, 0087838, 0088810, 0089285, 0091813, 0304979, 0310228, 0310681, 0B04300211, 0P00800511, 0P00800611, etc..
W10196406 Replacement No.: 101, 101A, 101AM, 256691, 296481, 308648K, 309113K, 309427K, 3150246A, 3150246P, 332-180, 42141, 67988, 404179, 560255, 7725P002-60, 7725P007-60, etc..
Description
Drip pans for electric stove fits most Kenmore, Tappan, Frigidaire, Crosley, White Westinghouse plug-in electric ranges cooktops.
The drip pans for electric stove speed the cooking time and save the cost of energy. And make sure nothing drips onto the flame, keeping it safe. Make your Kitchen clean and tidy.
Warm Tips
If you are not sure if it is suitable for your machine, please feel free to contact us. We are happy to help you.
If you receive a defective Drip Pans, please feel free to let us know.