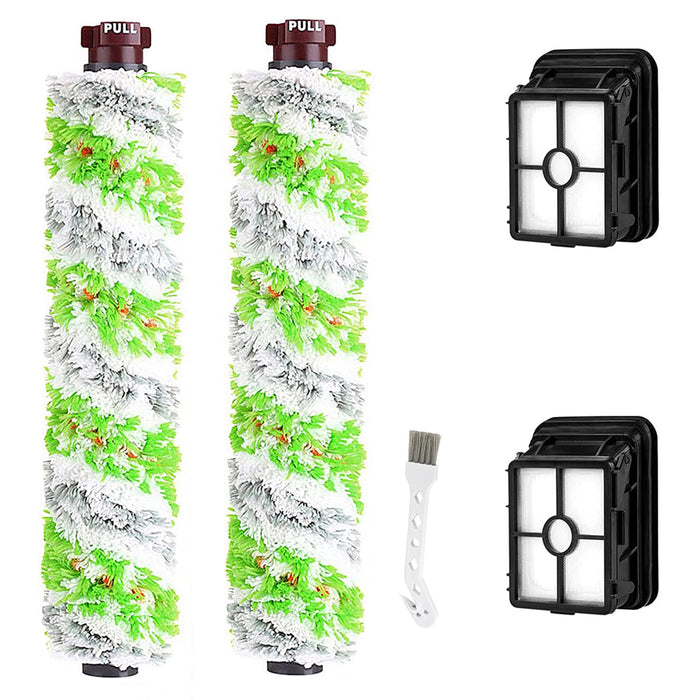 2460 Multi-Surface Pet Brush Rollers & 1866 Filter Accessories for Vacuum Cleaner Pet Pro
Sold out
Original price
$29.99
-
Original price
$36.69
Specifications
Material: Nylon&HEPA Filter
Color: White, Green
Item Dimensions: 10.31" x 6.73" x 1.69"
Item Weight: 0.70 lbs
2-Pack Includes: 2 * Pet Pro Brush Rolls;2 * HEPA Vacuum Filters;1 * Cleaning Brush
3-Pack Includes: 3 * Pet Pro Brush Rolls;3 * HEPA Vacuum Filters;1 * Cleaning Brush
4-Pack Includes: 4 * Pet Pro Brush Rolls;4 * HEPA Vacuum Filters;2 * Cleaning Brush
Key Features

2460 & 1866 Filter: Tangle-free brush roller that scrubs to remove debris and minimizes annoying pet hair wrap. Easy to clean and replace without any tool. Filter can help to traps up to 99.97% of particles as small as 0.3 microns in size.
Fit For Brand:  Bissell CrossWave Pet Pro 2306A & CrossWave 1785 Series Vacuum Cleaner. 

       

Fit Models:  Fully compatible with Bissell CrossWave Pet Pro (2306, 2306A, 2303, 2305, 2328, 2551) series, CrossWave (1785 and 1785A) series.

 1785G, 1785B, 1785F, 2328, 2305, 2305K, 1785, 17853, 1785 , 17855, 17856, 1785Q, 1785A, 17852, 17858, 17859, 1785P, 1785R, 1785T, 1785V, 1785W, 2303, 2306A, 2306, 23062, 23068, 2551 vacuum.

Note: If you have any uncertainty, please feel free to ask us.
Description
For the best performance of your vacuum cleaner, recommend to replace the filter in every 3-4 months. 
How to find the model: Take off the water tank at the back and it's on the silver label.