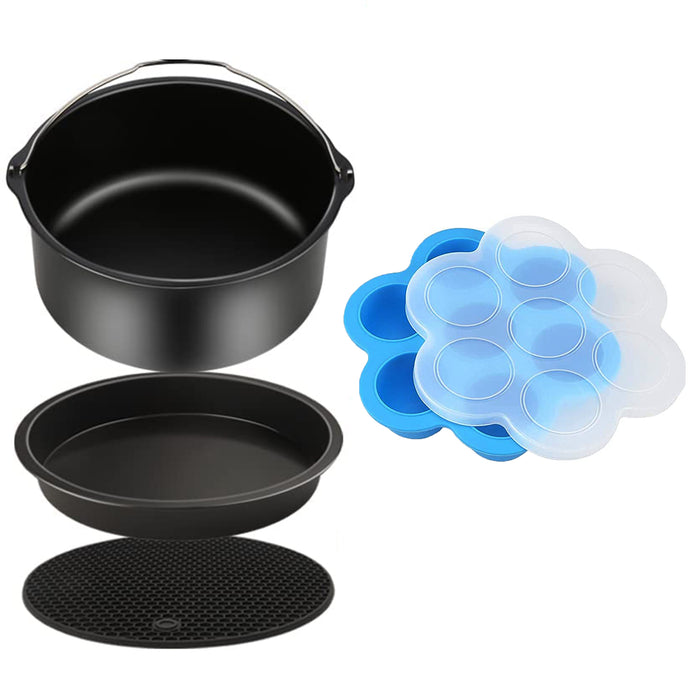 Air Fryer Accessories Set for 3.7Qt-4.2Qt Electric Air Fryer
Sold out
Original price
$24.99
-
Original price
$24.99
Specifications
Material: 304 Stainless Steel

Package Includes: 1 * Cake Barrel 6.4", 1 * Pizza Pan 6.3", 1 * Egg Bites Mold with Lid 6.1", 1 * 1 x Silicone Mat 7"
Key Features
Perfect Fit Round Air Fryers:

Accessory for Air Fryer fits all standard air fryer(3.7QT-4.2QT). Each accessory pairs especially well with all Cozyna, Philips, Gowise USA, Ninja, and PowerXL Air Fryer and most brands of air fryer.

Dishwasher Safe:

Cake barrel and pizza pan(with anti-stick coating) can not be washed in the dishwasher, do not wipe with a coarse cloth or metal ball, hand wash with a sponge or soft cloth to save non- Rod lining. Other accessories are easy to clean in the dishwasher.

Expand Your Cooking Dishes:

These air fryer accessories are perfect for making cakes, pizza, French fries. Can use these accessories to fry, roast, bake, and grill to help you make more delicious foods with less oil.
Description
Cake Barrel: Cake pan not only used in the air fryer but also in the oven with the unique design and the thermal properties of the pan.

Pizza Pan: Non-Stick finish that allows baked goods to release easily from the pizza pan while making clean up a snap.

Egg Bites Mold: It is great for baking muffins, quiche mold, egg tart mold, chocolate mold, pudding mold, jelly mold, ice mold and so on.

Silicone Mat: Providing a heat-resistant surface to place your hot accessories on.